OVERVIEW
---
After a volatile week of trading, the S&P 500 index ended lower by 0.33 percent. The tech-heavy Nasdaq Composite, however, gained 0.54 percent for the week, mirroring the 0.52 percent gain in growth stocks.
On the international front, developed country stocks were walloped, declining more than two percent for the week. In contrast, emerging market stocks only fell by about half a percent.
Long-term interest rates continue to fall, boosting the return to long-term Treasury bonds by two percent. On a similar note, the ratio of high-yield to investment-grade bond yields has been climbing lately, a signal of increased risk aversion.
The decline in interest rates has corresponded to a strong rally in the price of gold, which saw its biggest quarterly inflow since 2016 last quarter. The five percent drop in oil, however, drove commodity prices lower. The U.S. dollar remained virtually flat, ticking down about 20 basis points.
KEY CONSIDERATIONS
---
Purchasing Managers Bummed Out – Purchasing managers are vital for businesses (particularly manufacturers) because, without them, there wouldn't be any raw materials in place to develop a final product. With their finger on the pulse of their industry, these managers make decisions about how much of what stuff to purchase for their organizations.
Due to the importance of these decisions, the Institute for Supply Management (ISM) surveys four hundred companies in twenty major industries about their purchasing decisions and combines their responses into an index. This headline figure can indicate whether the economy is expanding or contracting.
Last Tuesday, the Manufacturing PMI was released. It wasn't great. The index fell to 47.8 in September, its lowest level since 2009, showing the extent of the contraction in the manufacturing sector.
Then, on Thursday, the Non-Manufacturing PMI was released, revealing a drop of 3.8 points to 52.6. Although better than the Manufacturing PMI, this reading was below the consensus estimate of 55.3, thus raising worries that maybe the weakness in manufacturing is starting to spread to the non-manufacturing sector of the economy.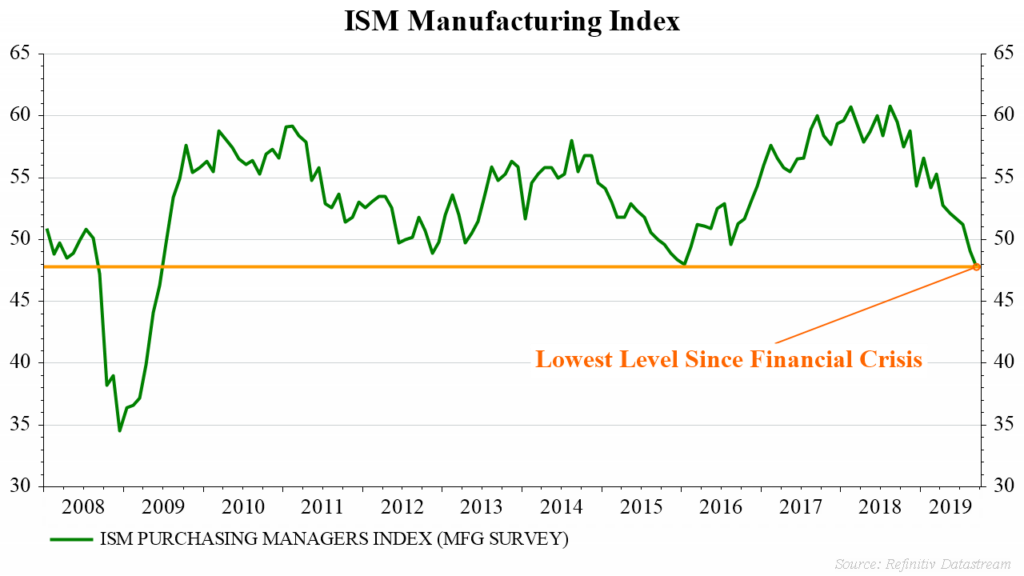 An average of the two indices gives us a reading of 50.2. According to the ISM press releases, an average reading above 45.8 for an extended period generally means the economy is growing. In fact, September's average reading corresponds to real GDP growth of around 1.5 percent.
However, we do find that, since 1997, an average PMI reading below 51 corresponds to about a nine percent per annum decline for stocks1. Although the average PMI has just barely fallen below this level, it has been steadily declining from its peak of 60.2 late last year.
Furthermore, both the production and new orders sub-indexes are weak compared to their averages.
The bottom line: the economy is still growing, but the underlying components are shaky in some areas.
On The Bright Side – Inflation is bad for consumers because it reduces purchasing power over time. Low and steady inflation can sometimes be good because it stimulates job growth; however, high inflation can affect corporate profits through higher input costs.
The historical data is noisy, but it does appear that higher inflation corresponds to lower stock market returns, on average.
Going back to the ISM PMI surveys, a sub-index for Prices Paid is a representation of inflationary pressures in the economy. The latest monthly reading is at a level that indicates low inflationary pressures. Stocks tend to do well in this environment.
So, although purchasing managers are less enthusiastic than before, perhaps the lack of inflation in the purchasing data is helping balance out the negative effect on the stock market.
1Source: Ned Davis Research
This is intended for informational purposes only and should not be used as the primary basis for an investment decision.  Consult an advisor for your personal situation.
Indices mentioned are unmanaged, do not incur fees, and cannot be invested into directly.
Past performance does not guarantee future results.