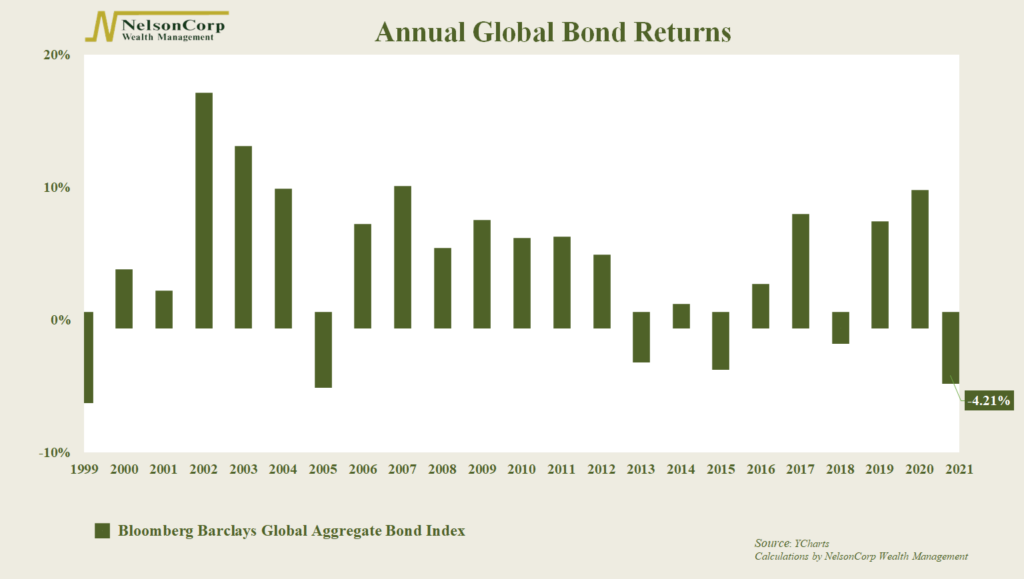 Bonds have really struggled this year. Globally, they are down about 4.2%, as represented by the Bloomberg Barclays Global Aggregate Bond Index shown in the chart above. The index is on track for its worst annual return in roughly two decades, and it's well below its average annual return of 4.3%.
Rising interest rates are to blame. For example, in the United States, we've seen the benchmark 10-year Treasury yield rise from 0.92% at the beginning of the year to 1.6% at the time of this writing. That's a big increase in rates, and bond prices move inversely to bond yields, so that explains why bond prices have experienced losses this year.
Some of the rise in rates is due to a stronger world economy, which helps explain why stocks have done so well. But some of the increase is also due to inflation—a bond investor's worst enemy. It's proving to be a little more stubborn than previously anticipated. But, if inflation does level off here eventually, it could help set the stage for a rally in bond prices. After all, we haven't seen two consecutive years of negative global bond returns in recent history. But that could change, too.
This is intended for informational purposes only and should not be used as the primary basis for an investment decision.  Consult an advisor for your personal situation.
Indices mentioned are unmanaged, do not incur fees, and cannot be invested into directly.
Past performance does not guarantee future results.