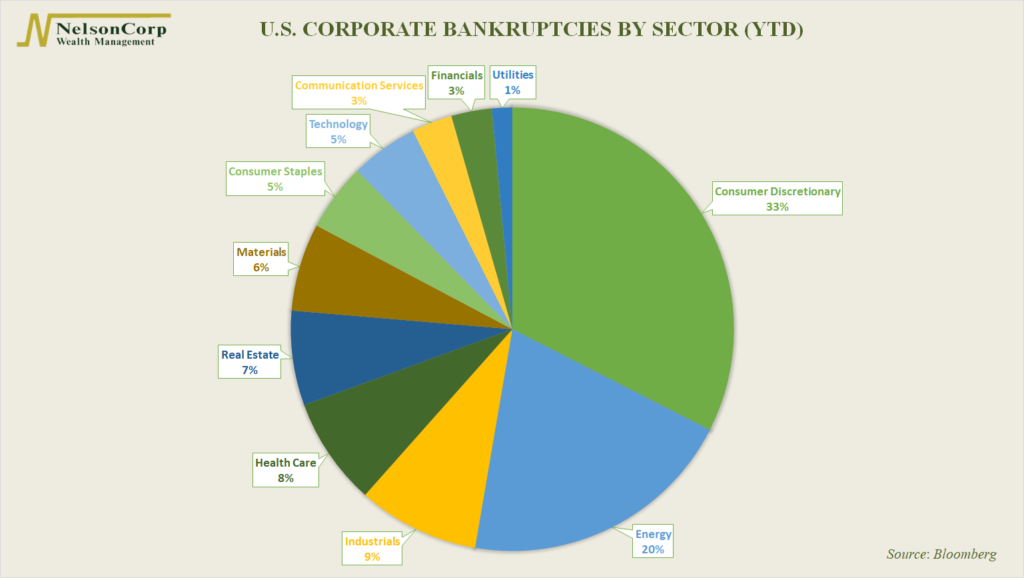 Business is hard.
A study by J.P Morgan Asset Management found that roughly 40% of the publicly traded companies in the U.S. between 1980 and 2014 suffered a "catastrophic decline"—a loss of at least 70% of their value without ever recovering.
That's rough. And something like a pandemic doesn't help.
Our chart of the week shows the sector breakdown of total corporate bankruptcies announced in the U.S. this year.
Not surprisingly, consumer-focused companies have been hit the hardest. Many of the well-known retailers that have gone out of business this year have been on the decline for some time now. But the pandemic pushed their demise into overdrive.
Beyond the consumer-facing companies, energy and industrials account for another 29% of bankruptcies. These sectors have suffered acutely from the fall in oil prices and a drop in global aggregate demand.
In total, U.S. bankruptcies are on track to hit their worst levels in a decade.
This is intended for informational purposes only and should not be used as the primary basis for an investment decision.  Consult an advisor for your personal situation.
Indices mentioned are unmanaged, do not incur fees, and cannot be invested into directly.
Past performance does not guarantee future results.