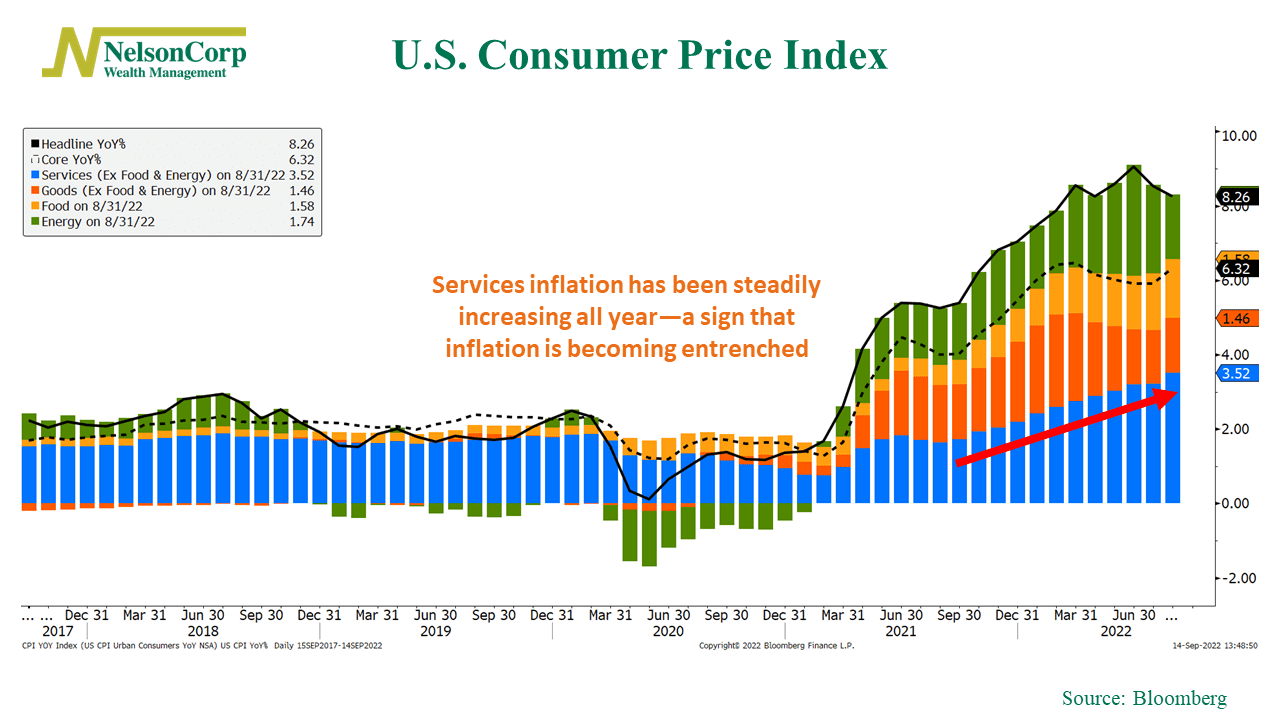 Inflation has been a thorn in the side of the stock market all year. This week, we found out that the Consumer Price Index (CPI)—a commonly used measure of inflation—dropped to an 8.3% year-over-year rate in August versus the 8.52% rate in July and the 9.06% rate in June.
That's the good news, as it might be a signal that headline inflation has peaked.
But the bad news is that core inflation—which strips out the volatile categories like food and energy—accelerated to a 6.32% year-over-year rate last month versus the 5.91% rate the month before.
The primary culprit? Services.
The services category includes things like the housing components of CPI, healthcare, insurance, and really anything that is not a physically produced good. The problem with this is that price increases in these sorts of categories tend to be stickier than things like food and energy, which are more greatly impacted by more temporary things like supply chain issues and commodities.
In other words, rising services inflation signifies that inflation is becoming entrenched.
To visualize this, we have our chart above that breaks the CPI down into its main sub-categories: services (blue), goods (orange), food (yellow), and energy (green). As you can see, the services category has steadily increased every month for the past year.
In fact, a year ago, the CPI was growing at a YoY rate of 5.25%. Today, it's 8.3%. So, of that 3.05 percentage point increase, roughly 1.89 percentage points (or 62%) can be explained by the rise in services inflation.
This is a big reason for the unexpected rise in the Core CPI last month. And since the Fed focuses more on core inflation than headline inflation, this doesn't bode well for a let-up in rate increases anytime soon.
This is intended for informational purposes only and should not be used as the primary basis for an investment decision.  Consult an advisor for your personal situation.
Indices mentioned are unmanaged, do not incur fees, and cannot be invested into directly.
Past performance does not guarantee future results.