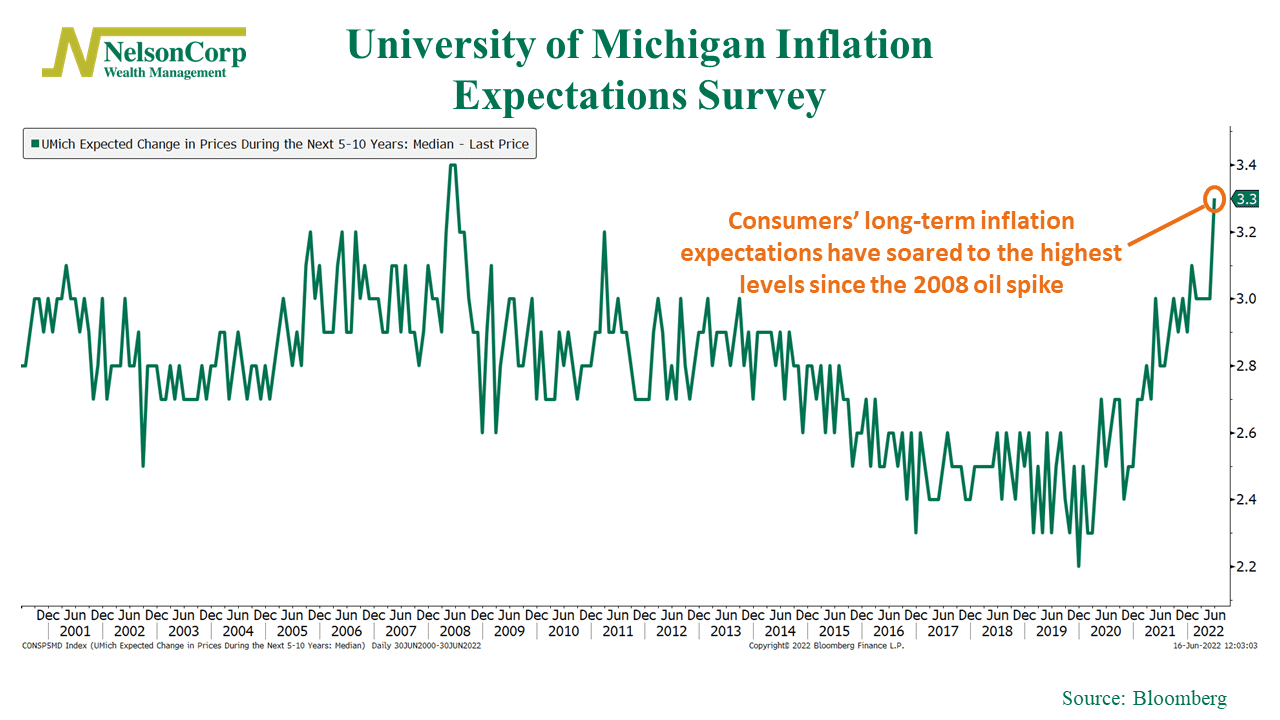 This week's big news was the Fed's announcement that it's raising its benchmark interest rate by 75 basis points (0.75 percentage points). That was the Fed's biggest interest-rate increase since 1994.
This surprise move was in direct response to the red-hot CPI report last Friday, which showed that headline inflation rose 8.6% on a year-over-year basis last month. However, a significant portion of that reading was due to the energy price shock, which the Fed can't really do much about. So why the bigger-than-anticipated increase in rates?
Our featured chart of the week above provides a clue. This chart shows what consumers think inflation will be over the next 5 to 10 years when surveyed by the University of Michigan. In other words, it measures consumers' long-term inflation expectations.
The release last Friday showed a jump to 3.3% from 3% the month before. Only during the 2008 oil price shock were consumers' inflation expectations higher.
This is a problem for the Fed and something Fed Chairman Jerome Powell said they need "to take seriously." Why? Because while the Fed usually focuses on "core" measures of inflation, which strip out volatile components like food and energy, it's the headline inflation rate that actually shapes people's expectations. People don't care about core versus non-core inflation measures; they care about the price at the pump.
So, when surveys like the University of Michigan's show that inflation expectations are rising, it's a red flag for the Fed. Keeping inflation expectations well anchored is the whole ball game for the Fed. Once the genie of increasing inflation expectations gets out of the bottle, it's hard to put back in. And the Fed is determined not to let that happen.
This is intended for informational purposes only and should not be used as the primary basis for an investment decision.  Consult an advisor for your personal situation.
Indices mentioned are unmanaged, do not incur fees, and cannot be invested into directly.
Past performance does not guarantee future results.