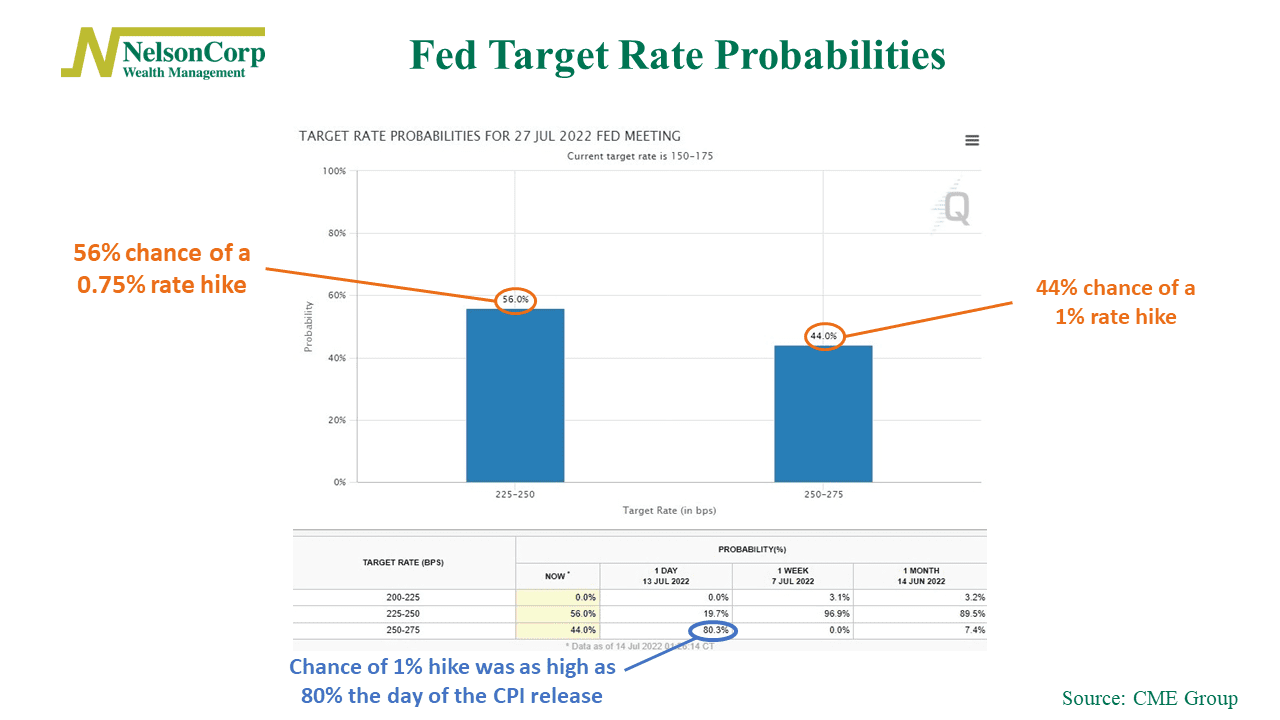 This week's big news was the release of the June Consumer Price Index (CPI) inflation number. On a year-over-year basis, headline inflation came in at 9.1%. That's the highest it has been in 41 years and was higher than Wall Street's expectations. As a result, investors adjusted their probabilities for what they think the Fed will do with rates at the upcoming FOMC meeting on July 27th.
Our chart above shows the CME Group's FedWatch Tool. This tool assigns probabilities to various rate hike magnitudes based on what the market expects. At the time of this writing, the market is betting that there is a 56% chance that the Fed will hike the Fed funds rate by at least 75 basis points in a couple of weeks. That's a big rate hike and would match the 75-basis point hike they did last month.
However, you'll also notice that there is a 44% chance that the Fed goes even bigger and does a bazooka-sized hike of 1 full percentage point. I highlighted at the bottom of the chart that on the day the CPI report was released (July 13th), this probability was as high as 80%!
Never in the modern era of monetary policy history has the Fed raised the Fed funds rate by a whole percentage point. Maybe the June CPI reading was a game changer?
Either way, whether it's 75 basis points or a full percentage point, it's clear that inflation is stubbornly high, and the Fed will need to stomp out inflation before it gets worse by hiking rates more aggressively.
This is intended for informational purposes only and should not be used as the primary basis for an investment decision.  Consult an advisor for your personal situation.
Indices mentioned are unmanaged, do not incur fees, and cannot be invested into directly.
Past performance does not guarantee future results.