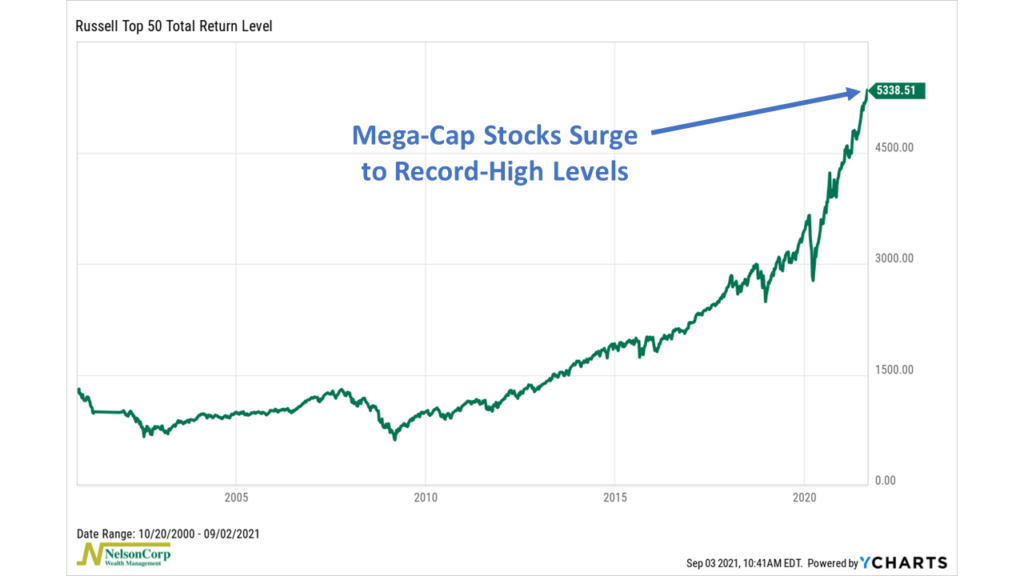 For this week's featured chart, we show the Russell Top 50 Total Return Index. This index measures the 50 largest companies by market capitalization in the broad-based Russell 3000 Index. Despite tracking only 50 components, this index represents roughly 40% of the total market capitalization of nearly all the publicly-traded stocks in the United States. So, these companies aren't just big; they're massive (hence the moniker "mega-cap.")
Currently, this index of mega-cap stocks is trading at a record-high level. This probably isn't too surprising to many people. Most of the 50 stocks comprising this index are companies that many of you are familiar with. You've likely used or purchased one of the products and/or services produced by these companies in the past. In fact, you're probably reading this piece right now because of a product made by one or more of these companies.
In other words, they're a big deal—and stock investors know it. These mega-cap stocks—many of which are in the "big tech" space—have dominated the past decade. And lately, they've been reasserting their dominance. Investors tend to pile into these mega-cap names whenever growth appears to be slowing in the economy. It has become the safe, defensive move. And with good reason. Big tech basically kept the economy running last year when everything shut down due to the pandemic. And as a result of their sky-high sales and profits, these big companies have been rewarded with record-high stock prices.
This is intended for informational purposes only and should not be used as the primary basis for an investment decision.  Consult an advisor for your personal situation.
Indices mentioned are unmanaged, do not incur fees, and cannot be invested into directly.
Past performance does not guarantee future results.