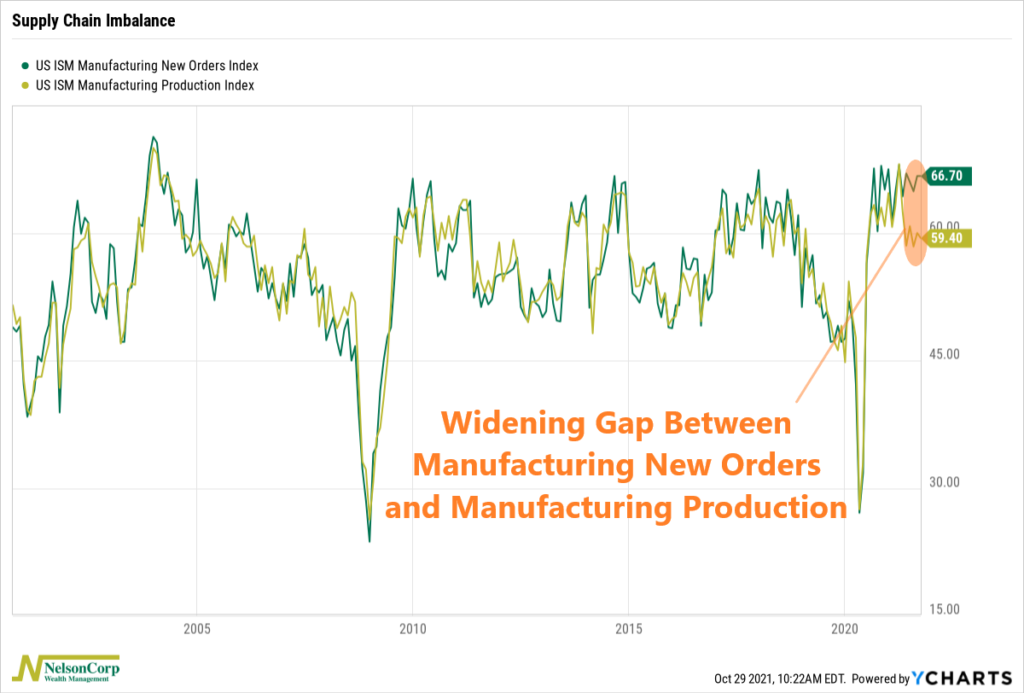 This week's featured chart reveals a widening gap between the U.S. ISM Manufacturing New Orders Index, which is rising, and the Production Index, which is falling. Historically, these two series have tracked each other closely, a sign that supply and demand are matching up. However, this year's supply chain issues—a side effect of the pandemic—have resulted in demand (new orders) outpacing supply (production) at an abnormal rate.
Economic data out this week revealed that household spending slowed last month, and the U.S. economy grew at a 2% annualized pace in the third quarter, the slowest rate since the 2020 recession. A big reason for this slowdown can be attributed to the aforementioned supply chain imbalance. You can't buy what you can't get. Shortages. Increasing inflation. All these things are curbing people's ability to get the products they want to buy.
This is intended for informational purposes only and should not be used as the primary basis for an investment decision.  Consult an advisor for your personal situation.
Indices mentioned are unmanaged, do not incur fees, and cannot be invested into directly.
Past performance does not guarantee future results.