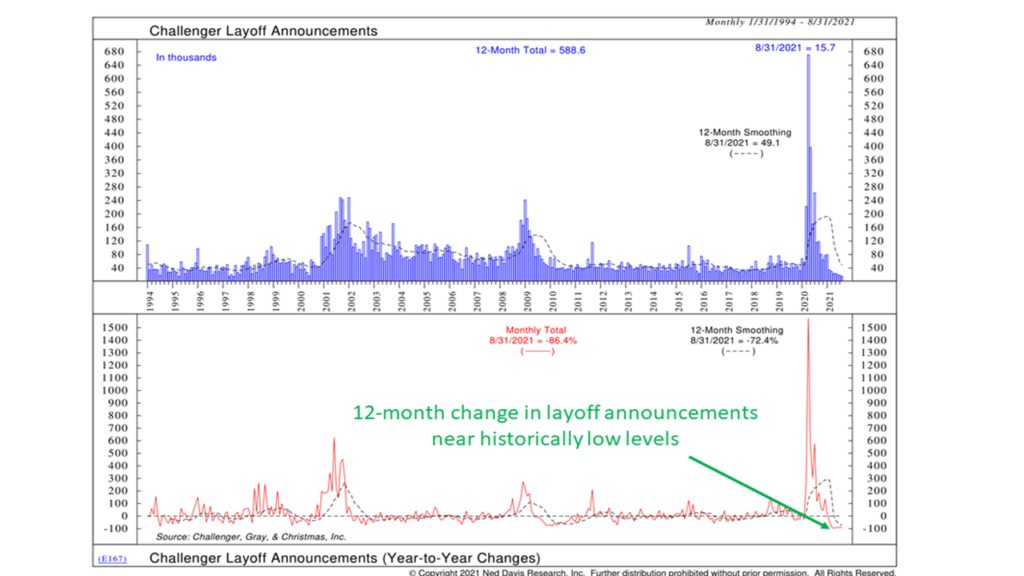 For this week's indicator, we present the Challenger Layoff Announcements Index. This series comes from a report produced by the outplacement firm Challenger, Grey & Christmas, Inc. It uses layoff data from various state labor departments to produce the total number of corporate layoffs announced every month in the U.S.
We like this series because layoffs are a leading indicator for initial jobless claims, and rising initial jobless claims signify a weakening economy. If fewer people are working, they are likely to spend less. And since consumer spending accounts for the vast majority of our nation's economic output, a slowdown in spending is bad for the revenues and profits of the corporations that make up the stock market.
Looking at the chart, you can see the monthly number of announced layoffs (in thousands) in the top half of the graph. But the bottom part is what we focus on for our analysis. It shows the monthly percentage change in announced layoffs (red line) coupled with the 12-month change of that series (black dotted line). We've found that when the 12-month change in layoff announcements rises above zero, it's bad for stock prices, but it's good for stocks when it falls below zero.
Last year, you can see the massive spike in announced layoffs that occurred when the pandemic first started. This was accompanied by the dramatic stock market sell-off in March. However, unprecedented monetary and fiscal stimulus helped bolster the economy, and stocks came roaring back. Layoff announcements have continued to fall since then, and the 12-month change is well below zero. It's now near historically low levels. We see this as bullish for stocks and a way to balance out some of the other not-so-cheerful labor market data we've seen lately.
This is intended for informational purposes only and should not be used as the primary basis for an investment decision.  Consult an advisor for your personal situation.
Indices mentioned are unmanaged, do not incur fees, and cannot be invested into directly.
Past performance does not guarantee future results.