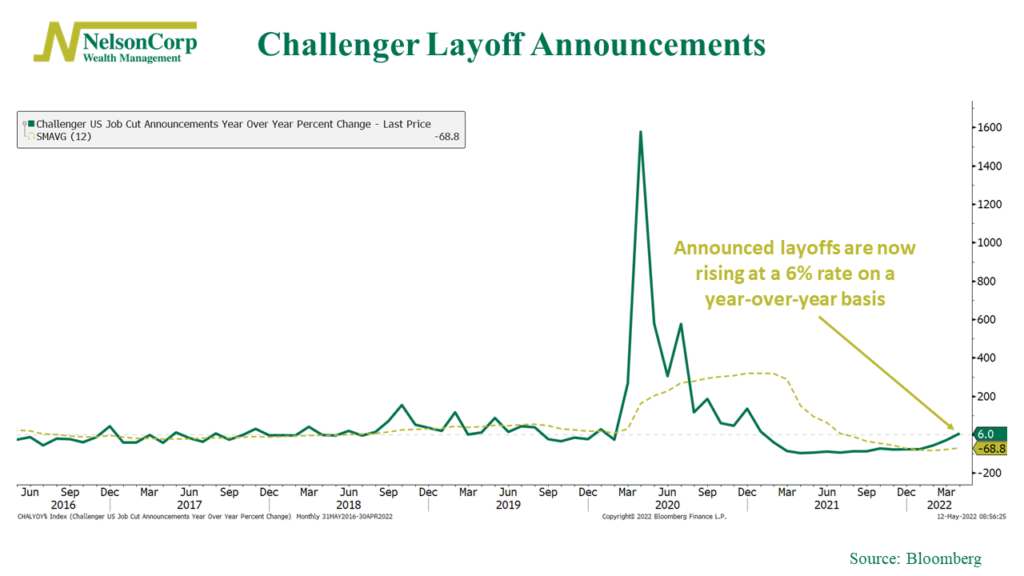 According to the most recent report from the outplacement firm Challenger, Grey & Christmas, Inc., U.S.-based employers announced 24,286 layoffs in April. This was 14% higher than the 21,387 announced in March and up 6% from the 22,913 cuts announced a year ago.
As our featured indicator above shows, this 6% year-over-year change in announced layoffs was the first positive change since January 2021. This is significant because layoff announcements are a leading indicator for initial jobless claims, and rising initial jobless claims signify a weakening economy.
America is a nation of spenders. Roughly 70% of our economic output comes from consumer spending. So, if fewer people are working, that means less spending, and less spending translates to lower revenues and profits for U.S. corporations. This could potentially weigh on stock prices.
With that said, however, the 12-month change in the year-to-change in announced layoffs (gold dashed line) is still negative. Historically, we have found this to be a better measure of the overall trend in corporate layoff announcements. We will be watching to see if this measure turns positive in the coming months.
Also, despite the recent uptick in announced layoffs, job openings are still at record highs, and workers who end up being cut will have a lot of opportunities elsewhere. The latest Job Openings and Labor Turnover Survey (JOLTS) for March reported a series-high 11.5 million job openings and 4.5 million quits, another record. So, at least for the time being, the labor market still appears strong, with just a few potential cracks forming.
This is intended for informational purposes only and should not be used as the primary basis for an investment decision.  Consult an advisor for your personal situation.
Indices mentioned are unmanaged, do not incur fees, and cannot be invested into directly.
Past performance does not guarantee future results.