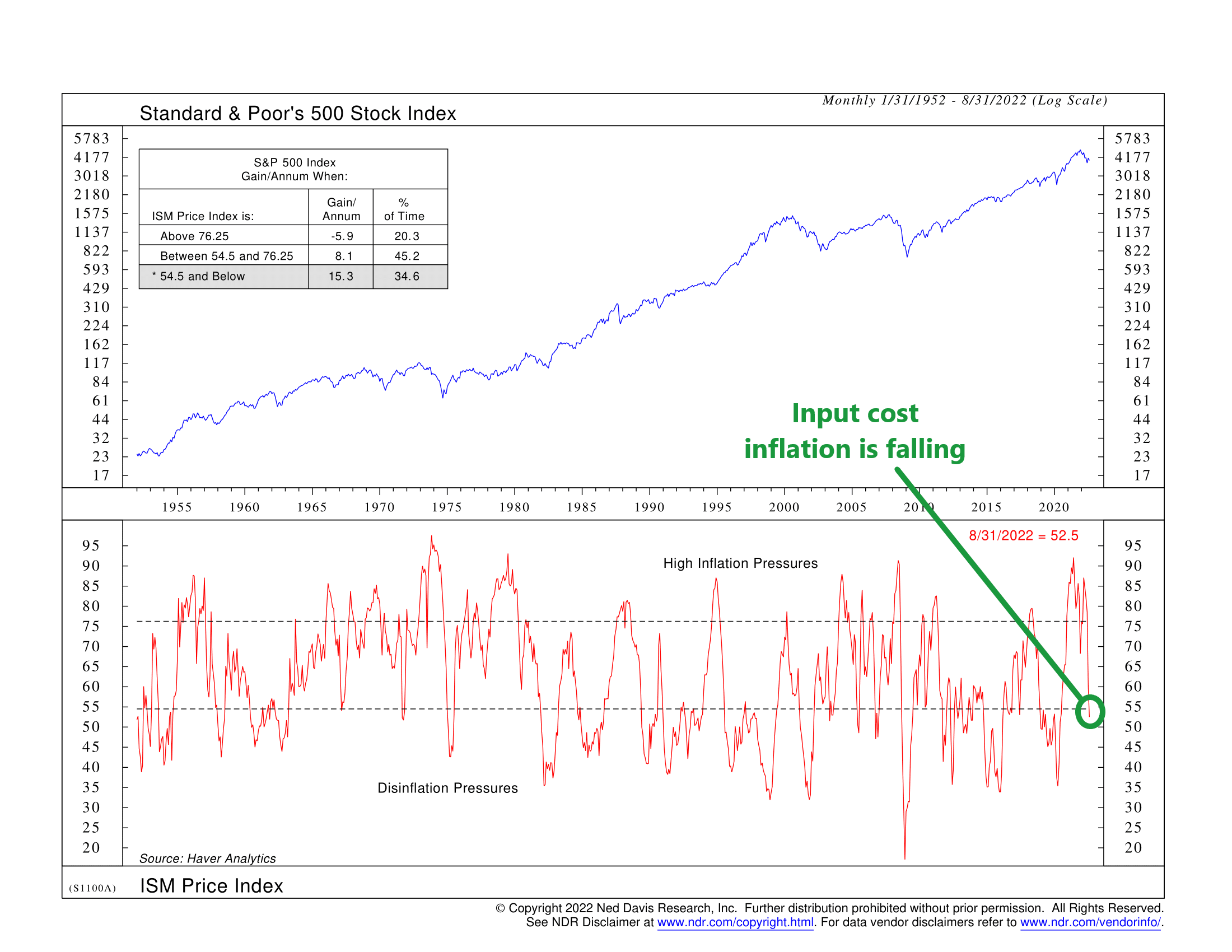 Every month, the Institute of Supply Management (ISM) conducts surveys of purchasing managers at hundreds of manufacturing firms in the U.S. and compiles the results into an index. Among the various sub-indices in the report is an index that measures the prices paid by manufacturers to obtain raw materials and inputs. This is called the Prices Paid index, the star of our featured indicator this week.
The ISM Prices Paid index is a measure of inflation for producers as opposed to consumers. This makes it a good leading indicator for overall inflation. If producers have to pay more to suppliers, then the price of the final product is likely to go up.
Higher readings from the Prices Paid index can adversely affect the stock market. This is because it potentially hurts corporate profitability. As the prices of raw materials and inputs go up, businesses might not be able to pass those costs onto consumers right away, so their gross margins take a hit. These lower profits can lead to lower stock prices.
The index is shown as the red line on the chart above. The higher the index's reading, the more manufacturers are paying for manufacturing inputs. The lower the reading, the less they are paying.
Historically, when the indicator climbs above a reading of about 76, it's a sign of high inflation pressures, which has resulted in negative annualized returns for the S&P 500 index (shown as the blue line in the top clip). However, readings below roughly 55 are signs of disinflation—or a lower rate of inflation—for producers. This tends to result in above-average stock returns—north of 15% per year.
The good news is that after hovering near stratospheric heights all year, the Prices Paid index fell all the way to 52.5 last month. These disinflation pressures will be welcome news for U.S. manufacturers who have been struggling with high input costs. If history is any guide, it could also mean better stock market returns going forward.
This is intended for informational purposes only and should not be used as the primary basis for an investment decision.  Consult an advisor for your personal situation.
Indices mentioned are unmanaged, do not incur fees, and cannot be invested into directly.
Past performance does not guarantee future results.