OVERVIEW
---
Well, that was quite the Monday. Some are even calling it Black Monday (the 2020 edition).
Pretty much all financial assets were down, some down a lot, after a failed meeting between the oil-producing giants Saudi Arabia and Russia resulted in the biggest one-day crash in oil prices since 1991.
The only thing that seemed to be spared were the safest of government bonds.
As oil was the epicenter of this decline, it was hit the hardest with a drop of over 20%!  And this was after it bounced back from a decline that at one point reached 30%!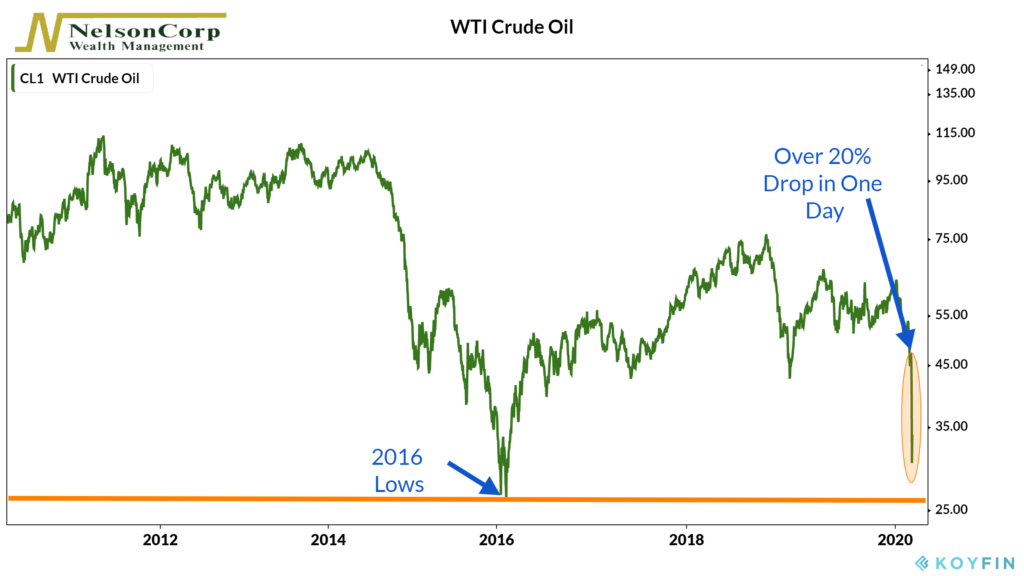 The major U.S. stock indices fell more than 7 percent, the likes of which we haven't seen since the 2008 financial crisis.
Bank stocks were hit especially hard. The sharp decline in oil prices could make it harder for energy companies to repay their loans, making banks with sizable portfolios of energy loans particularly vulnerable.
Volatility continued its march higher. The VIX index, typically known as the "fear gauge," shot up to levels last seen in 2008/2009.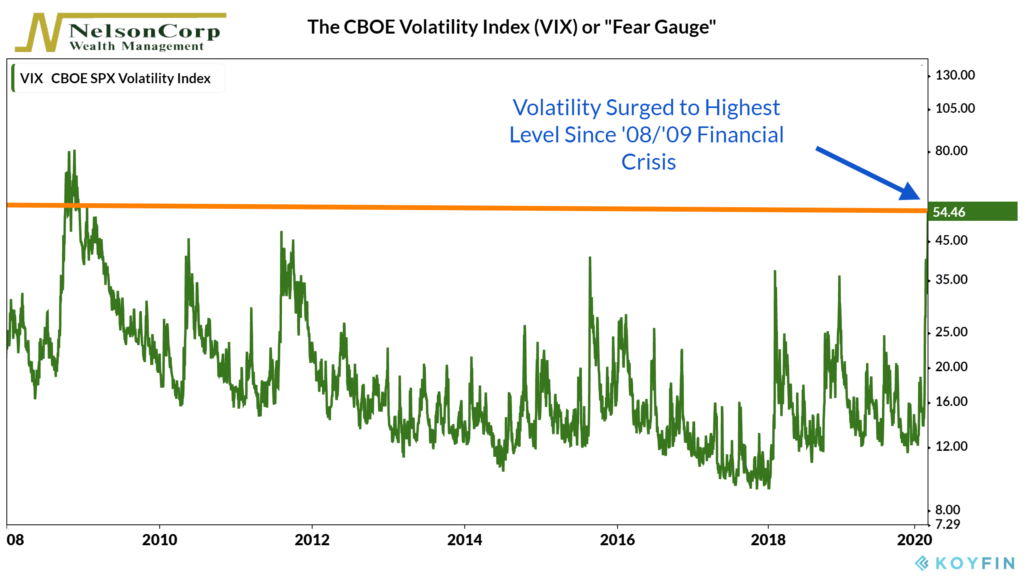 The craziness in the bond market continued on Monday as the yield on the 10-year fell to 0.57 percent, a record low.  At one point near the market open, it nearly reached 0.3 percent!
While commodities as a whole are suffering, gold is having its time in the spotlight, up nearly 10 percent so far this year.
The U.S. dollar plunged as investors fled into relatively safer currencies like the Japanese Yen, which rose to multiyear highs.
KEY CONSIDERATIONS
---
Crazy Markets Do Crazy Things – I'm not sure we've ever said, "Wow, that's crazy!" so many times in such a short period as the past couple of weeks.
Stock prices, volatility, bond yields, oil prices, they all seem to be trying to outdo each other in terms of their impressive moves.
Fortunately, good risk management does not have to rely on our ability to predict the kinds of crazy moves we've seen.
Our job in management risk is to allocate portfolios into assets and strategies that allows them to enable good outcomes even when the unpredictable happens.
For more insight into how we do this, see the Risk Aware Investing section of our site.
This is intended for informational purposes only and should not be used as the primary basis for an investment decision.  Consult an advisor for your personal situation.
Indices mentioned are unmanaged, do not incur fees, and cannot be invested into directly.
Past performance does not guarantee future results.