OVERVIEW
---
The U.S. stock market rebounded last week, with the S&P 500 gaining 2.5% and the Nasdaq surging 3.25%. The Dow registered a smaller gain of about 1.43%.
Foreign stocks had a strong outing as well. Developed country stocks increased 2.46%, and emerging markets rose 1.51%.
The 10-year Treasury yield fell to 4.19% from 4.23% the week before. The result was moderate gains across the board for most bond prices, with the exception of TIPS, which fell 0.22%.
Real estate rose 1.95% for the week, and commodities gained 1.18% broadly. Oil was the big gainer, up over 6%, while gold increased 1.4% and corn fell 1.33%. The U.S. dollar strengthened about 0.2%.
KEY CONSIDERATIONS
---
Money Matters – The U.S. stock market regained some of its strength last week. The 2.5% weekly gain was enough to pull the S&P 500 Index back above its 50-day moving average (shown below).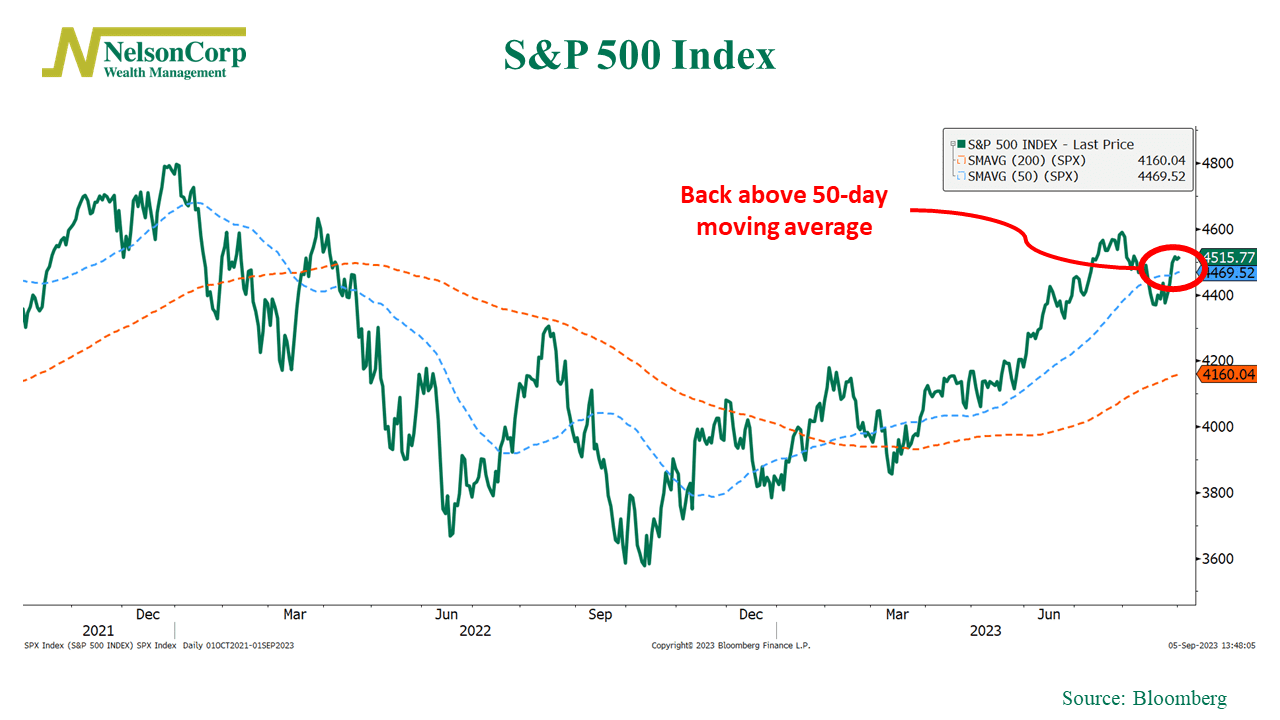 Does this mean the bull market is back on? It's tough to say.
One reason to be suspicious of the rally is the fact that the monetary environment remains restrictive.
As the red line on the chart below shows, stock prices are once again outpacing the money supply by a historically high amount.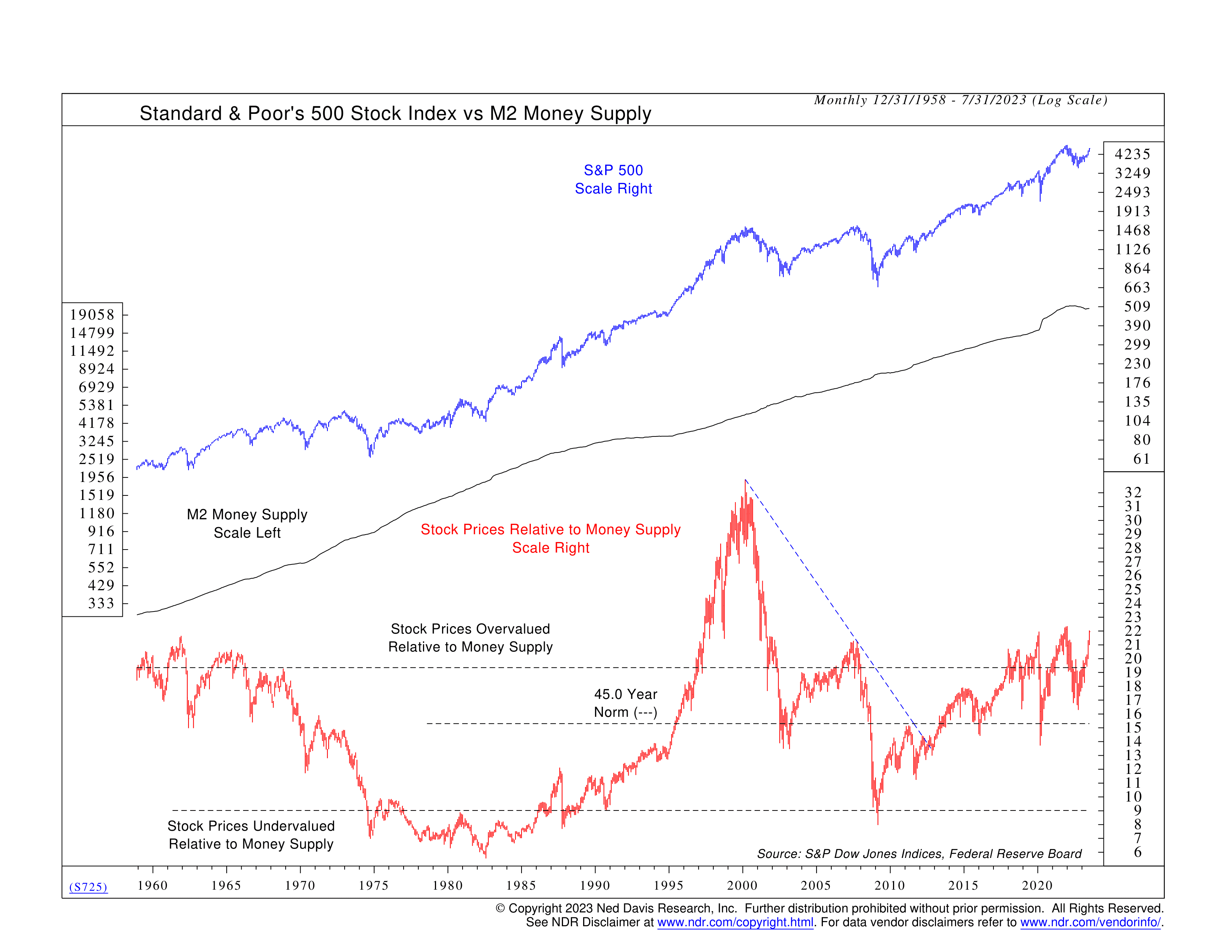 The investor Marty Zweig once said, "In the stock market, as with horse racing, money makes the mare go." In other words, this indicator implies that a relative lack of money in the economy could keep a lid on potential stock gains.
On the other hand, another indicator we have a close eye on is the NDR Supply Index versus the NDR Demand Index, shown below.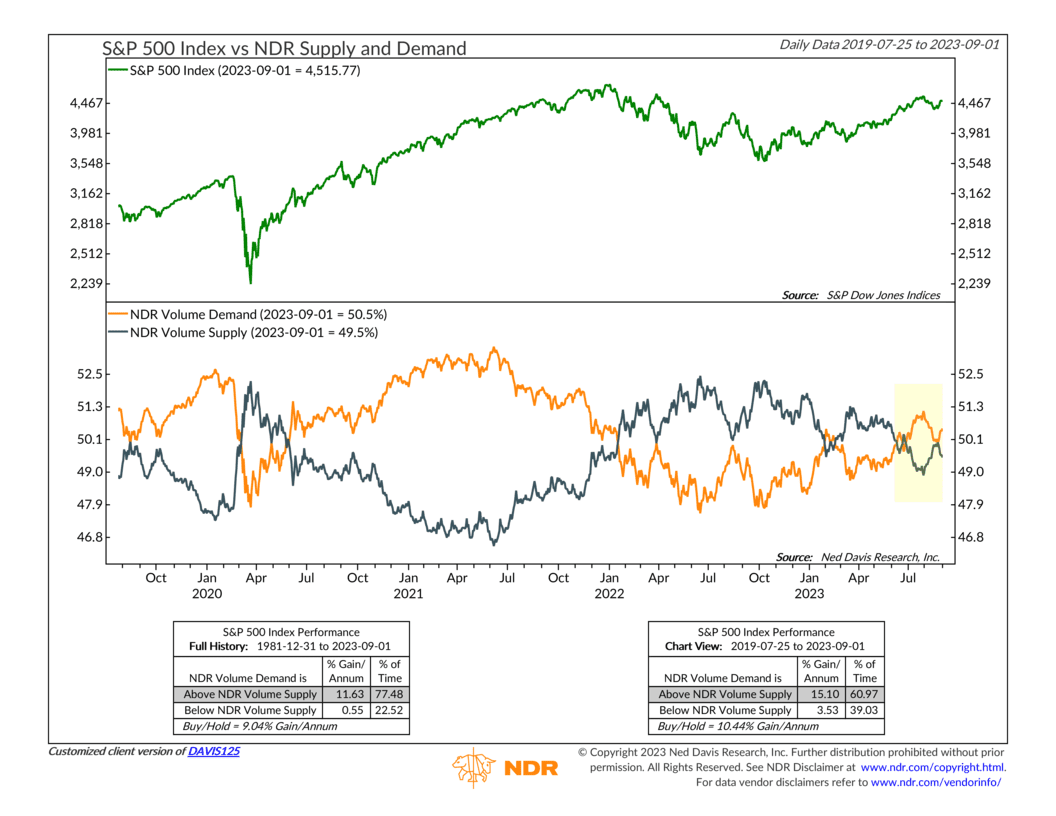 As you can see, for virtually all of the 2022 bear market, volume demand was below volume supply.
However, volume demand finally overtook volume supply this summer. It gave some ground in August but has had a strong bounce in recent weeks.
We will be looking to see if buyers can maintain the upper hand over sellers in the coming weeks and months ahead. If so, it would be a nice little tailwind for stocks going forward.
This is intended for informational purposes only and should not be used as the primary basis for an investment decision.  Consult an advisor for your personal situation.
Indices mentioned are unmanaged, do not incur fees, and cannot be invested into directly. 
Past performance does not guarantee future results.