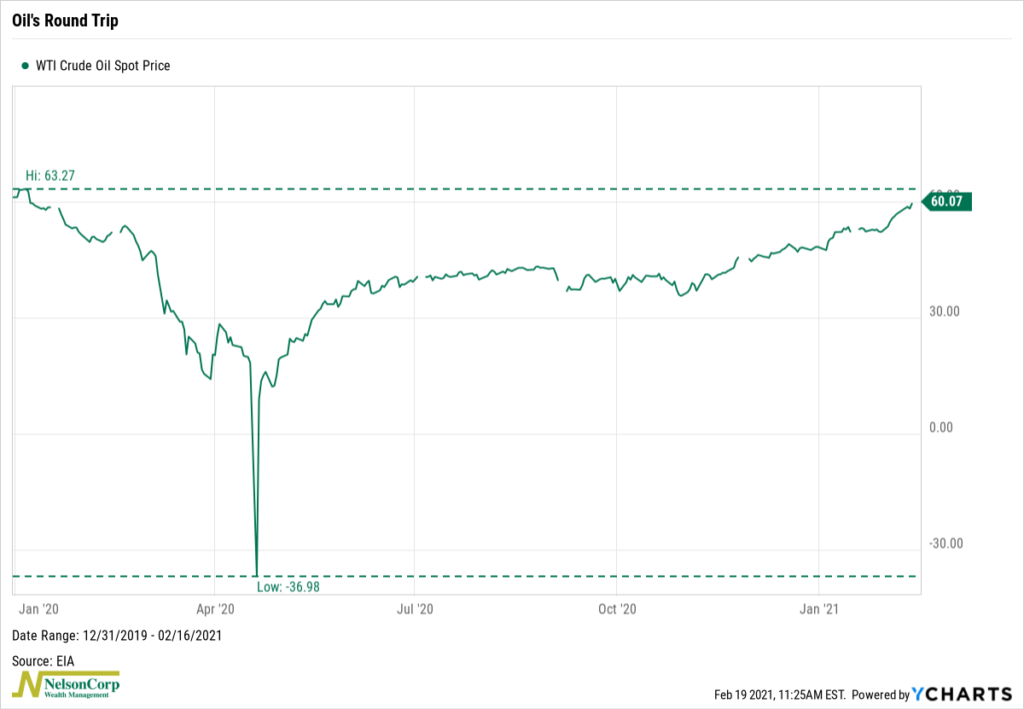 This past year has been a wild ride for crude oil prices.  At the start of 2020, oil was hovering around $60 per barrel.  But then the pandemic hit, and oil demand plummeted as people stayed home and traveled less.  At one point in late April, oil prices dropped into negative territory, to nearly -$37/barrel. Crazy!
Since then, however, oil prices have gradually recovered.  After hovering around $40/barrel for many months, prices started moving higher around the time the first Covid-19 vaccine was announced in November.
And now, freezing cold weather has swept across the nation, further boosting oil prices.  Energy prices have soared—particularly in Texas, where historically cold weather has hindered oil and gas production and demand is through the roof.
So now, oil has officially completed its round trip as spot prices are back above $60/barrel—where they were just one year ago.
This is intended for informational purposes only and should not be used as the primary basis for an investment decision.  Consult an advisor for your personal situation.
Indices mentioned are unmanaged, do not incur fees, and cannot be invested into directly.
Past performance does not guarantee future results.